Is Staging Your House Worth It?
Posted by Nadia Alrawi on Wednesday, May 4, 2022 at 9:17 AM
By Nadia Alrawi / May 4, 2022
Comment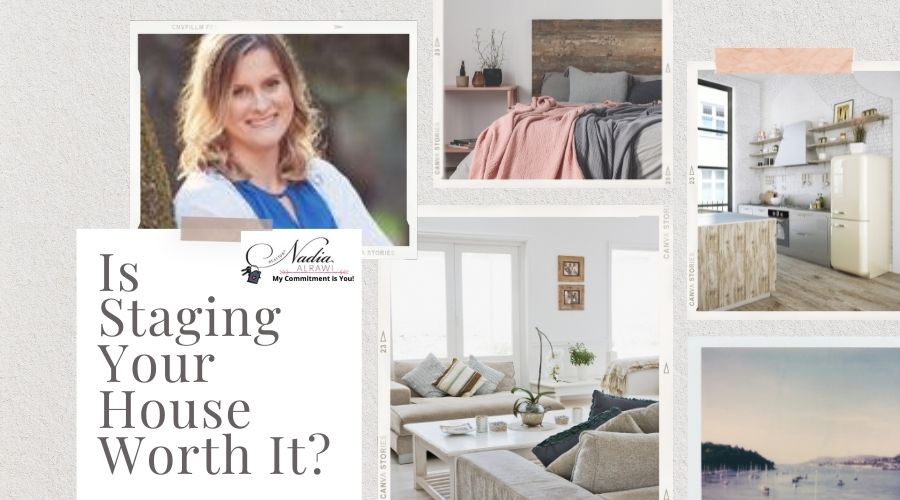 As you prepare to sell your home, one of the top tips you are likely to receive is to stage your house before listing it.
If you are wondering how much staging will cost, why it's important, and whether it will be worth the investment of time and money, this article is for you.
What is Home Staging?
Home staging is the art of preparing your home to appeal to potential buyers. By staging your house in such a way that a wide range of potential buyers can imagine themselves living in the home, you will likely sell your house more quickly and for a higher price.
Staging your house is one of the most effective marketing tools you can employ to attract your ideal buyer. Avoid the expense of full renovation of your home by staging it to highlight the best features of the property as it is.
Why Staging Your House Matters
According to the National Association of Realtors, 82% of buyer's agents said staging helped their clients to see themselves living in the home, which translated into buyers being more likely to make an offer on the home. Many agents also mentioned the way home buying shows on TV have impacted the process, as potential buyers expect a professionally designed space and depend on staging to see the full potential of the property.
Staging your house will include not just adding design elements to the space, but also removing things that will distract or deter potential buyers. According to the International Association of Home Staging Professionals, sellers can expect 5%-20% more in the sale when they choose to hire a home staging professional.
The bottom line is: staging your house matters because it will allow your home to shine, attracting the best buyers and the highest offers.
How Much Staging Your House Will Cost?
The cost of staging a home varies greatly, depending on what you already have in the home, how much you can do yourself, and the size and condition of your home. The average cost of home staging is $1,500, with a typical home staging investment between $600 and $4,000.
Staging your home involves a variety of costs, including:
Consultation: An initial design consultation typically take a couple of hours, during which a designer will view the space, make recommendations, and give an estimate for the cost of the project. A consolation generally costs between $150 and $500.
Room-by-room staging: You can opt to stage some rooms in the home and not others, depending on the recommendation of your agent and designer. Some rooms may require more attention than others, with each room generally costing around $500.
Price per hour: Some designers will charge an hourly rate, while others charge for the entire job. It's normal to see an hourly rate anywhere from $25 to $150.
Furniture rental costs: If you and your designer decide there may be a need for additional furniture to effectively stage your home, you may need to pay to rent furniture while your home is on the market.
Who Pays for Home Staging?
The cost of staging your home will be your responsibility. You are also the one who will benefit most from the home staging, so consider it an investment with a relatively reliable rate of ROI.
If you are selling a vacant home, paying for staging is even more important. Experts advise that selling a vacant home without staging often results in an extended time on the market and a price drop, while staging the home tends to result in a faster sale for a higher price.
For more information about preparing to sell your home, I am here to help. Contact my office below at any time to find out how you can prepare your home to attract your ideal buyer.
For all Santa Rosa homes for sale and real estate in Sonoma County, Contact Nadia Alrawi.