3 Things to Look for When Buying a Home
Posted by Nadia Alrawi on Thursday, July 28, 2022 at 1:46 PM
By Nadia Alrawi / July 28, 2022
Comment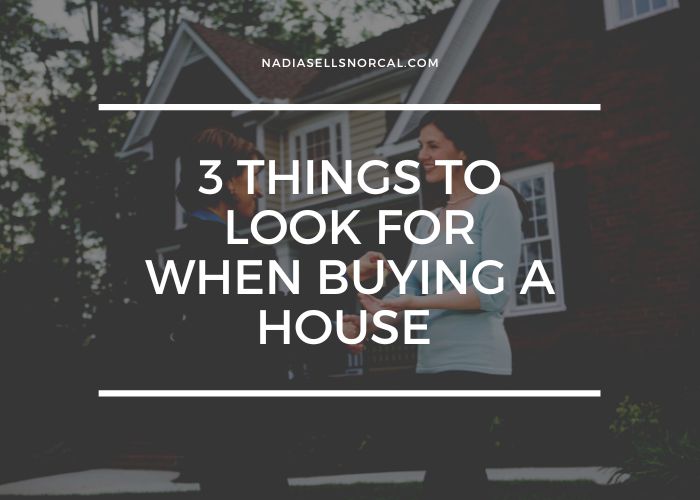 As more homes come on the market, we are seeing a much higher inventory than this time last year. This is great news for you as a buyer because you are likely to find more than one home you are interested in buying.
Do you know how to choose the right property for you? Of course you start with the basics: does it fit in your budget (which has verified through pre-approval) and is it in the right location (which you have narrowed down by looking at your commute, the local school district, and any other relevant information)?
But after that, you need a strategy for choosing when to put in an offer on a home. Keep reading for 3 things to look for when buying a house.
1. Size
In some cases, size does matter. Your home may not need to meet an exact square footage requirement, but there are likely some size restrictions you need to keep in mind.
For example, the number of bedrooms and bathrooms you are looking for is not something you should be flexible about. Falling in love with a 3 bedroom home when you know your household really requires 4 will set you up for frustration. So, be realistic about the size of house you need.
Ask yourself:
How many bedrooms do we need?
How many bathrooms do we need?
Is having an additional living space important for our household?
Do we need a dedicated home office, home gym, or other designated space in the home?
Are we likely to outgrow this home in the next few years?
2. Usability
In addition to being the right size, you need your home to function in a way that works for your lifestyle. This is a factor that is fully based on your individual preferences, the size of your household, and other details like whether you enjoy entertaining, have a hobby that requires a certain amount of space, or plan to take care of elderly parents in the future.
Questions to ask yourself about the usability of the home include:
Are stairs going to work for our household?
How much storage do we need, and for what kinds of items?
How much outdoor space is important for our household?
Will we be entertaining in this space?
Is wheelchair accessibility or accommodating aging relatives important for this home?
Is there enough parking, including garage, driveway, and street spaces?
3. Renovation potential
It is common to walk through a home and make a mental note, or perhaps even say out loud, that anything you don't like can be redone with a renovation project. In many cases, changing the home with a remodel or renovation is a great way to make the property your own, add equity, and increase the functionality of the home.
However, not all homes are going to accommodate the renovations you have in mind. Write down the renovations you think you would want to do in the home, so that you can get a good idea of what the projects would entail.
A project here or there may not seem like much, but if the list is long, you can expect it to cost you a substantial amount of time, money, and effort. Take your time to decide if you are ready to commit to what is required.
Some renovations will require much more than others. If the home will require a major kitchen or bathroom renovation, remember that those are two of the most costly remodeling projects you can take on. While they will also add substantial equity to the home, they are likely to require more time and money than you may originally have planned.
Other renovations are much more achievable with a DIY project or a simple renovation. These might include adding built-in storage, changing flooring, or updating lighting fixtures.
Ready to begin the search for that perfect Northern California house? We are ready to help you find your ideal property.