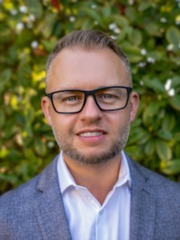 Kyle is a dedicated real estate agent whose primary goal is to bridge the gap between buyers and their dream homes while helping sellers maximize their profits. With a deep-rooted understanding of Northern California, Kyle possesses extensive knowledge of market trends, luxurious properties, and hidden gems in the surrounding areas. Moreover, Kyle stays up-to-date with the latest developments in the industry, sharing valuable insights with clients to empower them to make well-informed decisions.
Kyle's reliability and commitment to excellence are evident in every interaction. Backed by a strong work ethic and genuine compassion, Kyle effortlessly connects with people, establishing trusting relationships that go beyond mere transactions. Whether you're buying or selling, you can rely on Kyle to be your unwavering advocate, guiding you through the intricacies of the real estate process until your dreams become a reality.
Outside of the real estate realm, Kyle indulges in various hobbies. As an amateur photographer, Kyle captures moments that tell stories through a lens. Additionally, Kyle finds joy in cooking and actively engages in outdoor activities such as running, cycling, paddle boarding, and golfing. These pursuits, coupled with Kyle's warm and friendly personality, contribute to the delivery of exceptional service, accompanied by a contagious five-star smile.
Kyle's dedication to providing phenomenal work fosters the continuous growth of a loyal clientele and an ever-expanding network of referrals. With Kyle by your side, you can expect an exceptional real estate experience infused with professionalism, expertise, and a genuine passion for helping others achieve their goals.
Testimonials
Kyle is the best!! He worked with us purchasing a home with a very quick escrow period and made it really easy. His cooperation with the mortgage broker, escrow agent, listing agent, and us kept everyone in the loop and moving forward with ease. His communication is unmatched. We were able to communicate with Kyle at all times and his responses were immediate. We will definitely going back to Kyle anytime we buy or sell any property.
Patrick Palmer
Kyle is a fantastic agent who truly goes above and beyond to put his clients first and provide top notch service to all parties involved.
I had the pleasure of working with Kyle on a successful transaction and it was a smooth process from start to finish. I really appreciated his professionalism, his strong work ethic and his knowledge of the the entire process. Kyle is a solutions focused kind of guy, managing "problems" with a calm demeanor, never getting worked up or escalating them; I really, really appreciated this about him.
Kyle is fully committed to his business and it shows in everything that he does. I really enjoyed working with Kyle and I look forward to working with him again in the future!
Audrey Krafft
Kyle was absolutely the best realtor we could have picked! When we started the search for our new home, we felt scared, anxious, lost, overwhelmed being first time home owners, but the moment we met Kyle, that all went away. He made the process a calm one, a fun one, and so stress free. He helped us find the perfect first home. Thank you for everything, Kyle!!!
Jessica Avina
Kyle was amazing. He made our first time buying a home a breeze. He walked us through every step and made sure we understood everything. He was so attentive and we were able to easily reach him at any time. He kept us updated through the whole process. I couldn't imagine using anyone else!
Kaitlyn Osborne
We recently worked with Kyle to find our dream home and couldn't be happier with the result. Kyle was knowledgeable, responsive, and always had our best interests in mind. He listened to our wants and needs and helped us find the perfect home within our budget. He worked diligently finding solutions to the numerous problems with clearing the title. Kyle also navigated the negotiation process with ease and was able to secure an amazing price for our new home. I highly recommend Kyle for all your real estate needs.
Maria Esparza